Amspec Ltd Provides a full range of construction services for owners and occupiers of buildings, from total office fit-outs to refurbishment and construction works.
25%
Time saved in administration tasks
2.2X
Quicker site-based safety processes
40%
Time saved for Health & Safety teams
Problem
Early in Amspec's growth, they were able to identify elements of their project management processes that could negatively affect efficiency, quality, project success and potential for continued growth. Their highly paper-based processes and integrated systems were affecting their communication between site and office, their visibility of data and documentation, and their productivity in everyday processes, specifically those related to RAMS.
Solution
Amspec implemented Procore as their project management software. They rolled out HandsHQ to create RAMS, and 1Breadcrumb to manage all safety processes. Both 1Breadcrumb and HandsHQ integrate with Procore, which Amspec uses as their Single Source of Truth (SSOT). Purpose-specific systems that integrate with each other means the entire RAMS process has been optimised and all project and safety documentation is accessible by the team via Procore.
Result
Substantial time in site and office admin tasks cut down, visibility across all sites and an accurate SSOT that can be accessed by the entire Amspec team.
"We have one system (Procore) that integrates with all our other systems and brings everything into one place… our overall access to data is much better than before," said Michelle Aidley, Health, Safety & Compliance Coordinator. "A set up like this means all the information is in real-time, in one place. You get better insight into your staff's performance, your project compliance and your site safety."
"We now have a global overview of all projects from our head office… and we're able to effectively anticipate and mitigate risks," said Managing Director, Mike Wignall. "We want to be proactive, not reactive, and these systems help us in that respect."
"It has given us transparency and the ability to be in control of more than 20 sites remotely from the head office." – Ian Poole | Operations Director
This operational structure has also assisted in the tendering process, Mike commented – "During the tender process we present with Procore, 1Breadcrumb and HandsHQ as our single source of project management software. This further demonstrates efficiency and transparency to our valued clients who are leading in the construction industry in the UK and who strive for excellence in every aspect."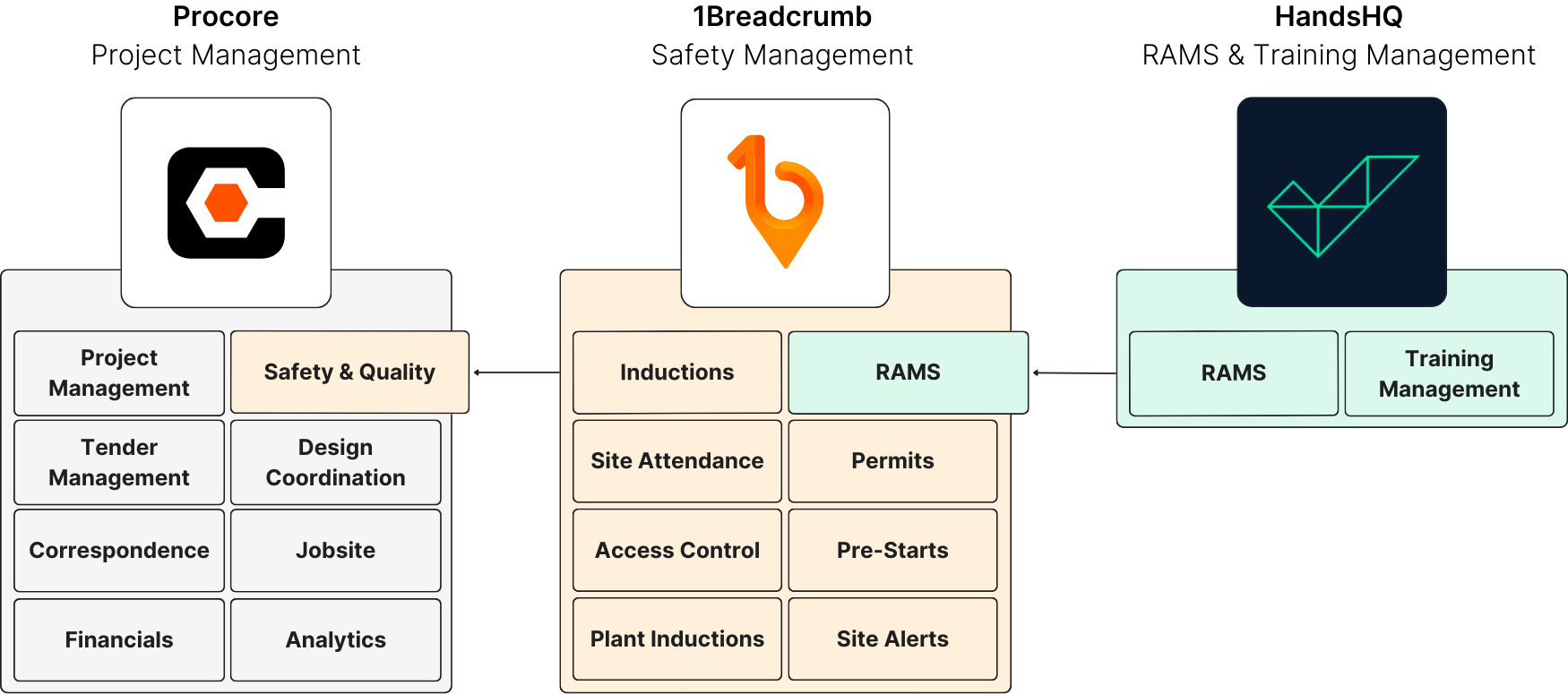 Preview of how construction systems Procore, 1Breadcrumb and HandsHQ integrate.
RAMS Redefined
We talked with the Amspec team to break down their RAMS process prior to rolling out these systems. Amspec directly employs skilled labour as well as hiring subcontractors, so they must create RAMS themselves. "Previously it was a very manual process. Site teams did not have access to systems and relied upon my full support when creating RAMS documentation," said Michelle.
In the instance where Amspec procured subcontractors for projects, "we would email the subcontractor, and they would email back the RAMS which we would upload to the local server to review. So not everyone in the company had access to the RAMS; they would commonly sit on people's desktops or in their emails," said Ian. "If you had concerns you would rely on a physical site visit which involved travel to various locations across North-West England."
Then there is the review process wherein the site/project team would complete a templated checklist. There was the sign off process on site, and the reviewed and signed RAMS were uploaded again to the local server, from where Amspec would need to store and audit that documentation.
"For site teams and even site workers, the process is smoother because they don't have to sign into different systems – it's all done in 1Breadcrumb." – Michelle Aidley | Health, Safety & Compliance Coordinator
"The RAMS process as a whole is a lot smoother and less time-consuming now. We can generate a set of RAMS through HandsHQ which automatically feeds into 1Breadcrumb. Then when someone signs into 1Breadcrumb, they select which company they're from and the approved RAMS is there ready to sign," said Michelle.
The RAMS are pulled into 1Breadcrumb – from there all the information is pulled into Procore. "It all automatically funnels through to the relevant folders," explained Ian. "It gives us comfort knowing everything is in place from a H&S point of view."

How Amspec uses systems Procore, 1Breadcrumb and HandsHQ together to manage RAMS.
Integration: The Key to Project Collaboration & Visibility
Today, any company's success is influenced by the integrated systems they have in place to manage everyday operations. This is arguably more relevant to construction companies that must collaborate from multiple offices and construction sites, as well as work with countless different stakeholders across multiple project phases.
The problem, therefore, is connecting everyone and everything in a smart database from which tasks and processes can be completed, and information immediately updated for relevant persons to access. The 'smart database' in this case, is Procore.
As Michelle explained, "Before Procore, a lot of processes relied on manual administration. We could spend hours every week printing files, or copying and organising documents. Paper-based information was taking too long to get to site. It was causing a lot of additional work within the office and the delay in communication would prolong issues on projects," said Systems Manager, Mark Shuttleworth.
Then there was the issue of communicating information from site to office. "If we had an incident on site, we would rely upon the site manager or foreman to photograph paperwork and send it back to us," said Michelle. But things changed when Amspec moulded this three-way solution combination.
"It has created a direct link from site to office." – Mike Wignall | Managing Director
"Everything is instantaneous," said Mark. "The information is transferred back and forth from site to office, and issues are rectified straight away". Communication from the office to the site teams has improved, as well as the site teams ability to reach everyone on a project. "We can streamline information further through site announcements, site alerts and other 1Breadcrumb tools," said Mike.
Ease of Ensuring Compliance
The site to office data sharing greatly assists Michelle to ensure compliance across all company projects. "If there were issues with paperwork previously, significant time could pass before paperwork could be physically inspected, and it wasn't until that point that we would recognise there was a problem. Now we can see it immediately."
"I can do 60-70% of a site audit remotely whereas before, I would have to travel across to each site. In fact I might have been able to go to one project to complete an audit. Now I can usually complete two or three audits in one day."
The key is using Procore not only as a project management software, but also a source of truth with which different, purpose-specific systems integrate. "It saves the information in one location. Whether it's a worker's hours on site, an induction, RAMS, or a permit, we can go to Procore and see the information there," said Michelle.
"At the click of a button I can look at the licences on an induction form, I can look at the version amendments and signatories of RAMS… If a project manager has approved a set of RAMS, I can audit that anytime. I can look at everything remotely," Michelle stated. "The team doesn't have to go to multiple locations to get information," said Mark.
A 3-Way Solution Advancing Compliance, Engagement and Safety
Other than the obvious admin and time-saving benefits, Amspec has described how site safety has improved using 1Breadcrumb with the other systems. "The contractors can only access the site once the induction is complete and RAMS are approved and signed off… we're at less risk like this," exclaimed Ian. "Now [the workers] have to interact and engage with these inductions and RAMS rather than skipping to the end and signing off," added Mike, "and it's immensely important that our employees go home safe everyday."
Talking again about RAMS, Michelle discussed the safety benefits of creating RAMS with project and site teams using these systems.
"HandsHQ has enhanced the entire RAMS process." – Michelle Aidley | Health, Safety & Compliance Coordinator
"The RAMS document that HandsHQ produces provides much more detail. It gives you more task-specific information without giving you more pages/volume," said Michelle. "We have seen a lot of success from HandsHQ. Not only has it reduced the time taken, but safety in general is enhanced."
"It isn't just me receiving a few bullet points and images in an email to create a set of RAMS. Instead, the site management teams are much more involved in the process. Generating RAMS like this results in better hazard identification and implementation of control measures because it is managed by the people carrying out the task or managing the job."
Looking for a safety solution?
Get in touch with us today to discover how 1Breadcrumb can advance your safety and project management.
Request Demo