1Breadcrumb
>
News
>
Blog
>
Rolling Out on Site: A Glimpse into the Recent Safety Transformation of BW: Workplace Experts
Rolling Out on Site: A Glimpse into the Recent Safety Transformation of BW: Workplace Experts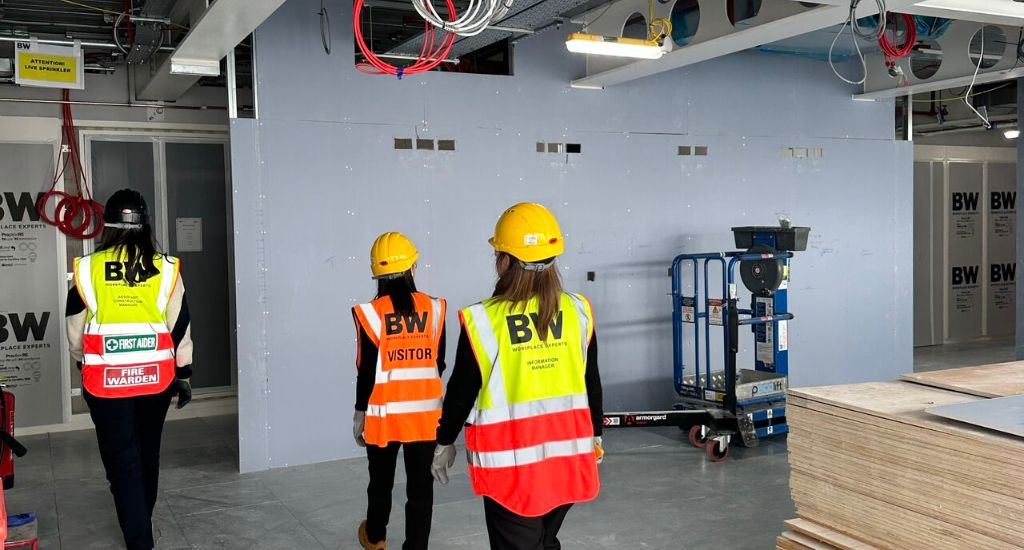 In the dynamic world of construction, where innovation and diversity play pivotal roles, 1Breadcrumb is making waves with its cutting-edge safety management tools. Recently, the team at 1Breadcrumb had the unique opportunity to visit a BW: Workplace Experts site in London. During this visit, BW guided 1Breadcrumb through one of their ongoing projects, showcasing the seamless integration of 1Breadcrumb's safety management tools. The experience highlighted the successful implementation of various tools, including biometric (Face-ID) site sign-in, inductions, RAMS (Risk Assessment and Method Statements), and permits. This collaboration exemplifies how forward-thinking construction companies like BW are leveraging the power of digital solutions for enhanced safety and efficiency.
One of the notable aspects of this collaboration is the emphasis on diversity in the construction industry. The presence of Amy and Stefania as key representatives of BW underscores the industry's commitment to empowering women in construction. As the hashtag #WomenInConstruction suggests, this partnership exemplifies the strides being made to create more inclusive work environments and opportunities for women within the traditionally male-dominated field of construction.
Biometric Sign-In
1Breadcrumb's biometric (Face-ID) site sign-in feature stood out during the visit, providing a secure and efficient way for workers to access the construction site. This technology not only streamlines the sign-in process but also enhances security by ensuring that only authorised personnel can enter the site. The implementation of biometrics reflects the industry's move towards advanced, user-friendly solutions that prioritise both safety and convenience.
The visit also showcased how 1Breadcrumb facilitates comprehensive inductions for workers. A well-designed induction process is crucial for ensuring that every team member is well-informed about safety protocols and project specifics. With the support of 1Breadcrumb, BW demonstrated their commitment to thorough onboarding processes that contribute to a safer working environment for everyone involved.
RAMS are integral components of construction projects, outlining potential hazards and the steps taken to mitigate them. 1Breadcrumb's integration of RAMS management tools provides a digital platform for efficient planning and execution. The real-time accessibility of these documents ensures that safety measures are readily available to all team members, contributing to a proactive approach to risk management.
Streamlined Permit Processes
Permits are essential for authorising specific high-risk activities on a construction site. The 1Breadcrumb platform facilitates a streamlined permit process, making it easier for construction companies like BW to manage and track permits efficiently. This not only reduces administrative burdens but also enhances overall project management by ensuring that all necessary authorisations are in place.
The collaboration between 1Breadcrumb and BW exemplifies the positive impact of incorporating digital solutions into the construction industry. The successful implementation of these tools on a major project underscores the industry's commitment to innovation and safety. Moreover, the active participation of women like Amy, Stefania, Danielle and Rebecca highlights the strides being made in promoting diversity within the construction sector. As the construction industry continues to embrace digital transformation, partnerships like these pave the way for a safer, more inclusive, and efficient future in construction.